created 12/26/2016
updated 2/16/17
We are excited to be a part of The Hub Peacebuilder Tour in 2017. Below are a few photos of The Hub vehicle that we are honored to have been able to complete for Jerry Legget and his team. Jerry: Musician and Peace Troubadour, hear him sing for peace. We can't wait to wrap more campers for this wonderful group.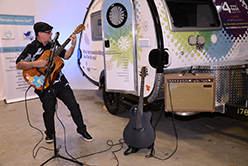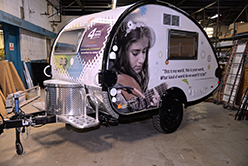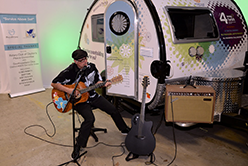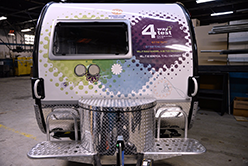 The Hub Tour has commenced! Check out the pics below.
first:
Rotarian Peacebuilders in District 5100 gather at The Hub Peacebuilder Tour Launch in McMinnville, Oregon beneath the wing of the Spruce Goose.
And this photo shows the tail end of the Spruce Goose and Jerry singing a song from atop the camper What a great beginning to such a worthy project. You keep on truckin' Jerry! We'll keep following you on your journey.
A special thanks to
Haydocy
for the referral |
(Photo credit: PatsyFerrell,©2017, Used with permission)